Plug&Play Island

GANIMED XL

Island or wall installation
Low temperature island cabinet
Large storage space inside
Modern squared design
Sliding glass lids closure system
Maintenance-free
Easy product access
Easy to clean
Temperature class: L1 / M1
Refrigerant: R290
Energy Label:

Send inquiry
GANIMED XL is a plug&play island cabinet with innovative design and environmentally friendly no-frost technology. This island is an optimal solution for displaying and storing frozen products, with easy access.
Ganimed XL contains natural refrigerant R290 and performs the defrosting process using the hot gas in the refrigeration cycle, thus preventing frost in frozen cabinets without the need for an additional energy source. It uses its energy economically without compromising the cooling rates of the foods and beverages placed in its chamber.
GANIMED XL island is also available in version with positive temperature and with panoramic glass wall. 
GANIMED XL 212/250 can be perfectly combined with GANIMED XL TOP, a plug-in horizontal cabinet. Fully equipped with with LED Lighting, this cabinet offers maximum visibility of displayed products. It has its own evaporator and controller to ensure optimal operation and maximum energy efficiency.
Standard equipment:
LED lighting
Curved-tempered-Low-E Glass
Front bumper
No-frost system
Dust-free/Maintenance Free Condenser
GANIMED XL TOP:
Frameless triple tempered Glass
Hot gas defrost
Dust-free Condenser
Horizontal LED lighting
Variable speed compressor
Customization:
Variable speed compressor
Second line bumper
Available in negative or positive temperature regime
A variety of exterior colour options
Accessories: Price Label, Grid separators (Set), Grid Baskets, Castors ( 4 Pcs), Island middle sheet price holder
GANIMED XL TOP:
Extra shelves
Door Lightening
Dual Mode Regime (2 working temperatures)
Waterloo HE integration: HYBRID SYSTEM
Price label tag for shelves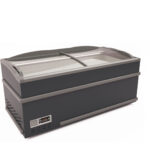 Ganimed XL
Modern squared design with glass cover increases visibility, which is additionally supported by LED lighting inside the cabinet.
Download